Have you read about wool dryer balls? I read about them in one of my mainstream magazines (Redbook, Oprah, Real Simple, etc.) and put them on my list of Someday Purchases. Yes the someday list. We all have one. We add that beautiful red coat that was featured last winter in whatever magazine you read at your annual doctors appointment. Or those cute shoes that you can no longer buy because they are so last season. Or that really neat kitchen tool that had a price tag of a night out with your husband for steak dinner (and dessert) plus tickets to a show, in NYC. Or even the small items that you don't need but say ooh, that would be nice (that new body wash or lip gloss or the latest bestseller). All those items you would love to buy but then bills come due or you decide to splurge on the good chocolate at the grocery store and a movie at Redbox. For a while that was where dryer balls fell for me.
Then in August, as I did yet another load of diapers I realized that I should just splurge. For those of you who don't know, dryer balls reduce the drying time of your clothes by absorbing moisture. This in turn saves electricity. They are also gentle on your clothing, natural and don't use chemicals to help your clothes fluff and smell good. The are natural antistatic champs. My organic cotton diaper inserts take about 2 hours on medium-low to dry so anything that speeds the drying without wear and tear is a good thing.
I researched which balls to get: wool, alpaca, hemp. It seems dryer balls of every fiber are out there. I decided to go with wool because it is durable, hypoallergenic and antimicrobial.
My next step was to decide where to get them. The place they seemed to most prevalent was
Etsy
. Every store has a different opinion on how many to use but the general consensus is that three is good and more is better. I shopped around for organic wool that was well priced. I picked these ones from Moss Creek Wool Works (I ordered mine through their Etsy shop before their new website was up.) and ordered a set of four for $20 plus $5 shipping.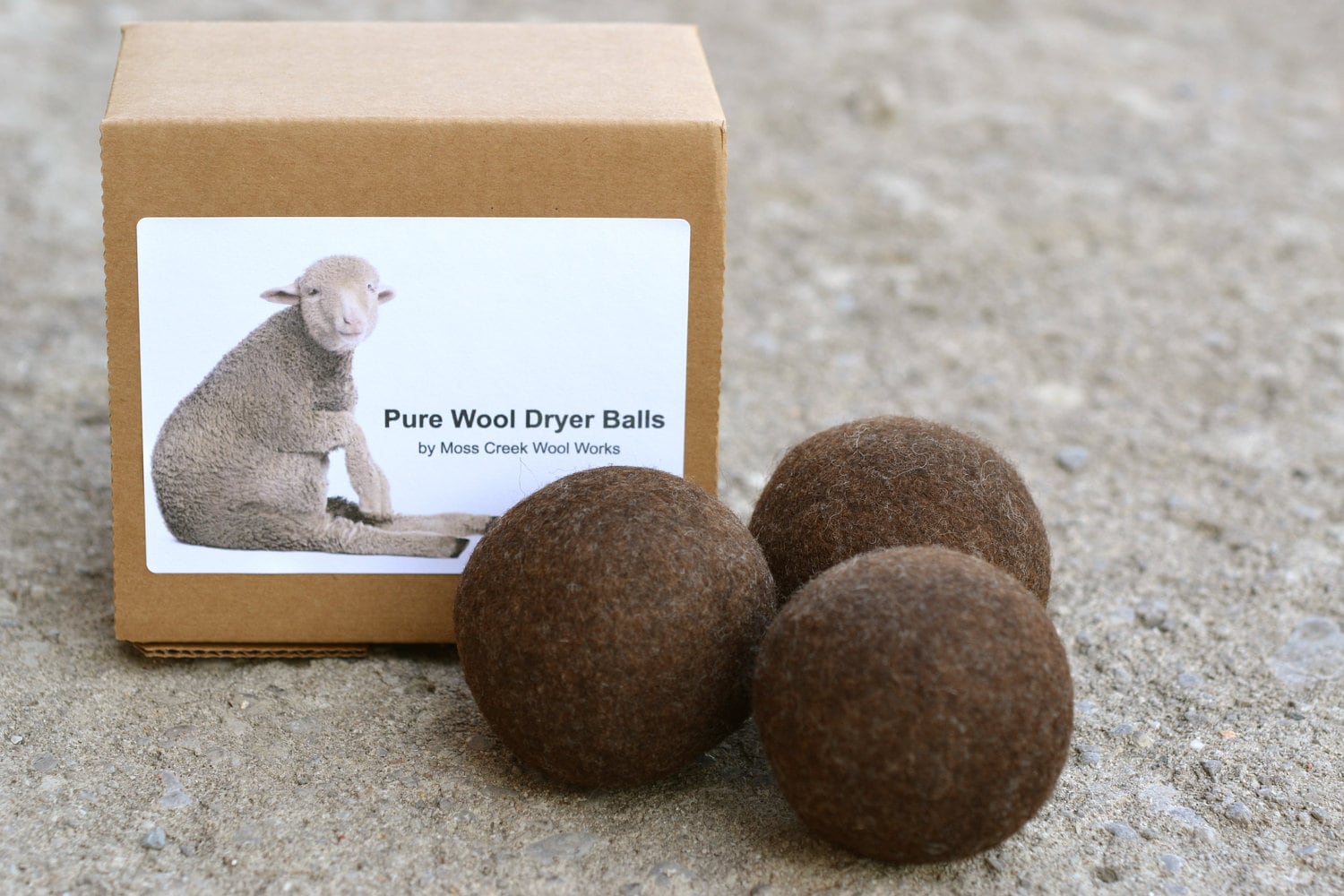 They were shipped fast and were very soft. I put them to use immediately - well almost immediately. First I had to get them back from the little ones who loved the way they felt, rolled, flew and bounced around the living room.
My diaper drying time was reduced by 20 minutes after the first use! I love that I am able to reduce the amount of time they are in the dryer using electricity and propane, rubbing together, wearing themselves down just a little more. My clothes definitely have less static and I don't worry about the balls getting moist and smelly. I understand why people swear by them. This product is worth the investment. Take the plunge and let me know what you think.
I am so pleased with these that I ordered a set of 9 so that I can make 3 sets of 3 as gift for the upcoming holidays. I am planning on sewing up dryer sheets with lavender to complete the set.
UPDATE: I ordered the set of 9 from Moss Creek Wool Works. I emailed the owner and she made me a custom listing. Not only was she super nice, she was sweet, accommodating and down to earth. I will definitely be doing more business through her. When I try making the wool slippers I am going to try using her wool for felting! Thanks for the great customer service and easy ordering Ingrid.
Anyone use wool or other fiber drying balls? Are you as in love as I am?