I don't know about you guys but I hate microwaves. They speed everything up and nothing tastes as good when it comes out. Having said that, most of my life I had one. When my fiance and I moved into our house (three days before we were married) we decided we weren't going to have one. Okay, I decided and he happily went along with it because it meant we didn't have to buy another appliance.
Fast forward one year and as a late Christmas gift a friend gifted us a microwave. Needless to say, we put it up. Shortly after getting it, a friend came for dinner. Walking into our kitchen she exclaimed "Where am I?" positive she must be in the wrong house as there was a microwave on our counter. What do I use it for? Mostly oatmeal, hot chocolate, reheating coffee. Nothing important but stuff that doesn't taste horrible reheated.
Fast forward a few more years to last weekend: my husband and I did some small improvements on the kitchen by adding LED lights under the counters and hanging up a magnetic knife strip. This illuminated the beautiful butcher block counter tops that we installed and the ugly refrigerator. As if the universe sensed my distaste, this week's play date was with a wonderful mom, R. Over coffee, she recounted her necessary kitchen renovation during the holidays. This included the fact that she moved all of her appliances out of the kitchen and has been slowly returning only the ones she really needs/wants. Her microwave doesn't fall into the category. When I mentioned how I use mine to mainly reheat my coffee (often two or three times per cup and I only have one per day) she stated simply that she puts her coffee cup onto the wood stove to warm it up. Light bulb! That very afternoon I remove the microwave from the counter.
Now in my moment of intelligence, I put it on a chair with another chair in front to hold it steady. Two days later in a morning fog, I removed one chair, not thinking. Of course, later that day: CRASH! Yep that was the sound the microwave made as it hit the floor and it's glass shattered into too-many-to-count pieces. I am no longer wondering if we can live without it because getting a new one isn't 1: in the budget 2: would take too much time to pick one out even if it was 3: getting it used is like playing Russian roulette, maybe it works, maybe it takes forever, maybe it is energy saving, maybe the reason someone got rid of it will become very apparent after I drive the 30 minutes each way to pick it up. Yeah, so not interested in doing that.
So now the counter is clear of a microwave. The counter is still cluttered but it is with things I actually want on my counter: my canisters, food, my espresso machine, the mini food processor, etc.
I tried the coffee cup on the wood stove. The bottom gets hot too but not the top or the handle and the coffee or hot chocolate taste wonderfully fresh when heated (second and third time). I won't go back to the microwave and not just because I don't have one any more.
What appliance do you have that you don't want or wish you could live without?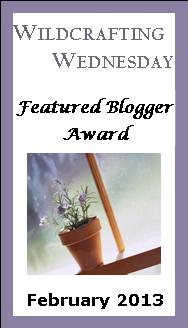 This article was shared on
The Sefl Sufficient Home Acre
,
Wildcrafting Wednesday
,
SemiHomemade Mom
,
The Prairie Homestead,
The Peaceful
Mom
, The Chicken Chick.
Sustainable Suburbia
, Gluesticks. My Turn For Us, The Backyard Farming Connection, Natural Family Friday,